"Translating" by Illustrations Eurologos Shanghai and Eurologos Milano Team Up to Help Celanese Illustrate Their Company Mission
Leveraging the graphic and illustration capabilities built up by our Milano office over more than 10 years of work, we recently teamed up with our Milanese colleagues to collaborate on an illustration and localisation project for our client Celanese, a leading producer globally of technology and specialty materials. Celanese's Asia Pacific headquarter based in Shanghai approached Eurologos Shanghai with a special request to illustrate the company's mission statements and localise these in 5 languages. We consider illustrations to be an extension of our work: simplified "translations" that simplify the process of understanding and digesting information.

Eurologos Milano took charge of the illustration part of the project coming up with the concept of representing Celanese's mission statements through the depiction of a galaxy. Celanese was placed in the centre as the earth, while the different mission statements were depicted as planets orbiting our own. Celanese's five Asia Pacific region offices were illustrated by a famous landmark from each of the countries the offices are situated in.
In parallel to this, Eurologos Shanghai began the work of localising the mission statements into Japanese, Korean, Chinese, Hindi and Indonesian. Since it was of major importance to get the intended message across in all of the five different languages, Eurologos Shanghai worked closely with the other Celanese offices in Australia, Singapore, India, Japan and China to accurately localise the company's mission statements. Another challenge was spatial: the translations needed to be kept to a suitable length in order to fit within the illustration.
Following approval of the illustration concept and translations from the client, Eurologos Shanghai partnered with a local Chinese artist to paint the final image on the wall of the recreation area within Celanese's Shanghai office.
You can check out the results for yourself!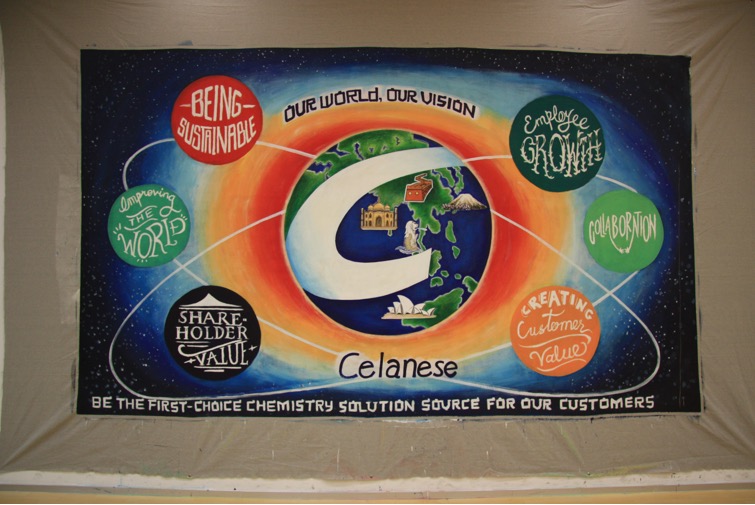 https://www.eurologos-shanghai.cn/new/wp-content/uploads/2016/10/Celanese_1_square.jpg
720
720
administrator
https://www.eurologos-shanghai.cn/new/wp-content/uploads/2020/09/eurologos-logo-small.svg
administrator
2016-10-17 07:46:49
2020-09-26 09:40:25
"Translating" by Illustrations Eurologos Shanghai and Eurologos Milano Team Up to Help Celanese Illustrate Their Company Mission